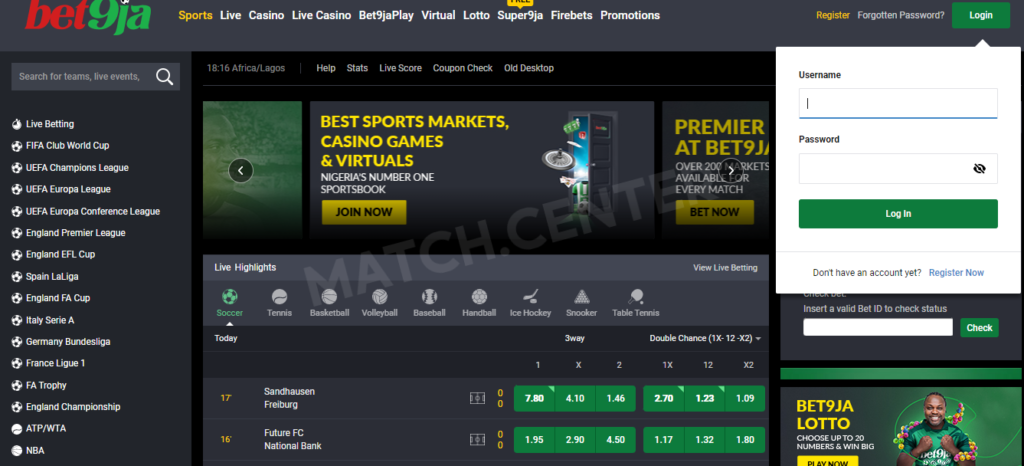 In the world of online sports betting, Bet9ja is a popular platform that offers a wide range of betting options for sports enthusiasts. If you're new to Bet9ja or online sports betting in general, this beginner's guide will walk you through the process of booking a bet on Bet9ja and help you get started on your betting journey. Let's dive in!
Create an Account: Before you can start placing bets on Bet9ja, you need to create an account. Visit the Bet9ja website and click on the "Register" or "Sign Up" button. Fill in the required information, including your personal details and contact information. Make sure to choose a strong password to protect your account.
Fund Your Account: To place bets on Bet9ja, you need to have funds in your account. After creating your account, log in and click on the "Deposit" or "Account" section. Choose a payment method that suits you, such as debit/credit card, bank transfer, or e-wallet options. Follow the instructions to complete the deposit process.
Understand Bet Types: Bet9ja offers various types of bets, including single bets, multiple bets, accumulators, and more. It's essential to understand the different bet types before placing your wager. Research and learn about terms like 1X2 (Home Win, Draw, Away Win), Over/Under, Handicap, and Correct Score. This knowledge will help you make informed betting decisions.
Select a Sport: Bet9ja covers a wide range of sports, including football, basketball, tennis, and more. Choose the sport you want to bet on by navigating through the available options on the Bet9ja website. Click on the sport, and you'll find a list of upcoming matches and events.
Choose Your Market: Within each match, there are various betting markets available. For example, in a football match, you can bet on the match winner, the number of goals scored, the first goal scorer, and so on. Take your time to explore the available markets and choose the one you want to bet on.
Make Your Selections: Once you've chosen a market, click on the corresponding odds to add them to your bet slip. You can select multiple odds from different matches if you want to place an accumulator bet. The bet slip will calculate your potential winnings based on the selected odds.
Set Your Stake: Decide how much you want to wager on your bet. Enter the stake amount in the provided field on the bet slip. You'll see the potential payout if your bet is successful.
Confirm and Place Your Bet: Review your selections, stake amount, and potential payout on the bet slip. Ensure everything is correct, and if you're satisfied, click on the "Place Bet" or "Confirm" button. Your bet will be submitted, and the stake amount will be deducted from your account balance.
Conclusion:
Congratulations! You have now learned the basic steps to book a bet on Bet9ja. Remember to bet responsibly and only wager amounts you can afford to lose. As you gain more experience and knowledge, you can explore advanced betting strategies and dive deeper into the world of online sports betting. Enjoy the excitement and best of luck with your bets!